Today,I encountered one of the most irritating moments on the internet.I had downloaded a 'zip' file and just then realised that it needs a password to be extracted-The ugly part,I had to do all the crappy surveys to get the password and It still didn't work.
So,One of the best solution available now was this. Here, The application uses brute force attack, Which tests different combination of alphabets,numericals and special characters to predict the password assigned to the file.
Probably you can't
bypass WinRAR password protected file password
as you like when you just forgot or lost it. But you can bypass password and open files in archive next time.
How can we find WinRAR file password?
Password recovery tool is undoubtedly a good method. But does it can recover all of WinRAR file password? We know that WinRAR file is probably RAR or ZIP archive. If there is no such tool, how can we do?
Don't worry. If there is really no such tool, take
RAR Password Genius
to find RAR file password, and use
ZIP Password Genius
to find ZIP file password. Because of the similarity between RAR and ZIP file password recovery, now we just need to see how to find RAR file password with RAR Password Genius.
1. Look for RAR Password Genius, then download and install it on computer.
When you download it, you can find there are two versions available, trial and full version. Trial version is free and full version needs to be paid. According to your RAR file password length, choose an appropriate version, because full version can find all kinds of RAR file password.
2. Import RAR file into RAR Password Genius after it is run.
With "Open" button on RAR password recovery tool, you can browse RAR file on your computer and import it into "Encrypted File" box.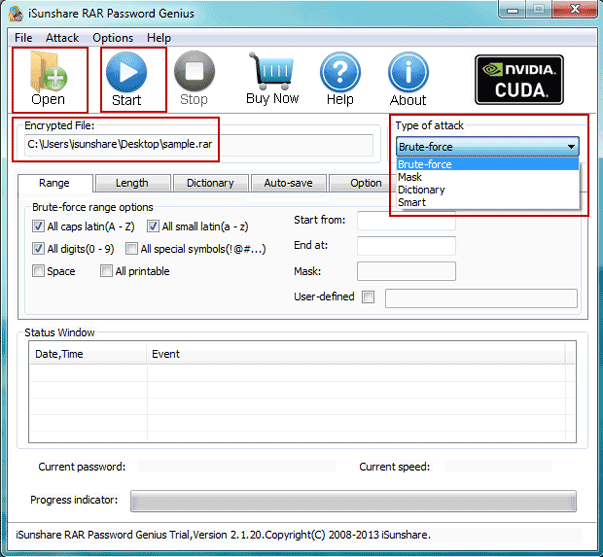 3. Select password attack type after RAR file is imported.
From Type of attack drop-down list, you can see four powerful password attack types. Each one can recover different kinds of password with high efficiency. More about how to select password attack type and make settings, please see the article
Password Recovery Type Settings
.
4. Begin to find RAR file password with Start button.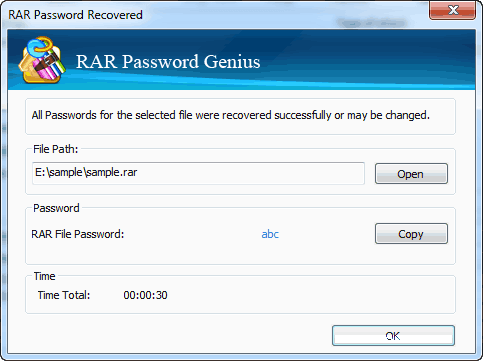 Once you click "Start" button, RAR Password Genius will begin to find RAR file password for you. When you see password appears in pop-up window later, it's time to remove RAR file password.
How to bypass WinRAR file password?
Open RAR file in WinRAR, and extract RAR file. When a dialog asks for a password, enter password you just found for RAR file and click OK. Then original RAR file password is removed and it is extracted. Now you can choose to compress files to RAR file again or not. No matter what you do, you have could
bypass RAR file password
to open or edit files compressed in RAR archive.