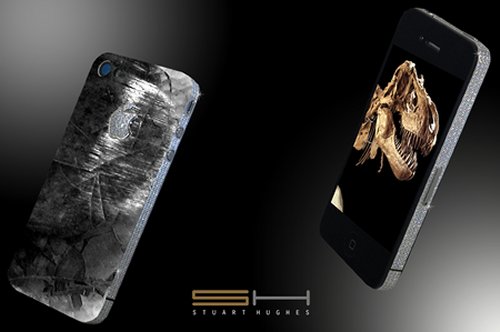 I never really understood the appeal of those ultra-expensive diamond-covered iPhones. This, on the other hand, is something I can really get behind. Stuart Hughes, the man behind an $8 million blinged out iPhone, has introduced the iPhone History Edition. It's an iPhone 4 with the customary glass back swapped out for a flattened tyrannosaurus rex tooth and meteoric stone.
The phone also features 8.5 diamonds in the bezel and an Apple logo made from diamond and platinum–because if you're going to go all out, why not really go crazy? Hughes said of the phone, "I have worked with dinosaur in the past but I wanted to go fierce on this one. Hence we [included] a tooth. It doesn't come more fierce than that."
You can pick up this understated handset for the low price of $63,000–a virtual steal compared to that $8 million thing. No world on how dinosaur bone affects reception–extinction, after all, could be the ultimate death grip.